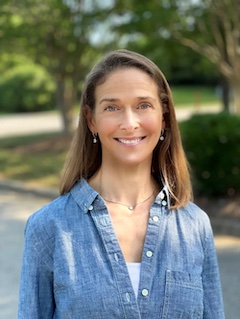 Briarly grew up in Georgia, earned her undergraduate degree from Emory University, and her first career was in middle school education and track/cross country coaching at Cary Academy.
Through dealing with her own and her running athletes' injuries, observing her aging grandparents in rehabilitation after balance and falls-related injuries, and serving as a volunteer on a medical mission to Uganda, she had the opportunity to observe physical therapists in a variety of settings and developed great respect for the knowledge and skill level of PTs, the relief and empowerment they brought to their patients, and most importantly the personal bonds they were able to form with their patients while working closely over time with them. This was enough to inspire her tough decision to leave a 10-year career in education at that point to pursue her Doctorate in Physical Therapy.
Since graduating from the University of Chapel Hill, she has worked in outpatient neurological and orthopedic clinics as well as skilled nursing and assisted living communities with individuals from ages 6-98. She finds the entire human body intriguing/miraculous and enjoys treating all conditions, but areas of special interest include cervical spine/shoulder, falls prevention and balance training, vestibular rehabilitation and concussion ("dizziness disorders"), fitness-related injury, and she is also certified in dry needling. She delights in "always becoming", constantly seeking to gain additional tools and trainings to feed professional growth. She believes that quality therapy services hinge upon: 1) listening to patients' symptom descriptions and feedback, 2) thorough and ongoing assessment during every session to inform clinical decisions and insure progress is being made towards patient goals, 3) education to empower patients with knowledge about their conditions and equip them for their active role in their recovery. She is grateful to join the team at Physical Therapy Partners where the treatment model is uniquely and genuinely centered on providing the best quality patient care.
When she is not treating patients or "geeking out" over learning how to better treat them, she can be found chauffeuring her beloved daughter to school/sports; "hanging out" with her husband, extended family, friends/neighbors and nutty pup; reading; boating/water sports on the nearest NC lakes; gardening; running, bootcamp/HIIT, and is attempting to take up pickleball and swimming (it's not pretty…yet!).