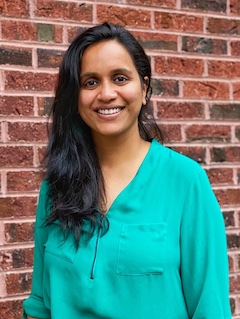 Laxmi is a physical therapist at Physical Therapy Partners. As a colleague of ours at Dunn Physical Therapy, we're thrilled to have him back for the next step of our journey!
Growing up, she was inspired by her grandparents. Despite their age, they maintained healthy, active lifestyles, showing a young Laxmi that health is not only a holistic, long-term process, but one that is worth the effort. Her experience as a health advocate in her youth pushed her into physical therapy as an adult, studying at Quinnipiac University.
Laxmi's approach to physical therapy is strongly patient-centered, with an emphasis on mobility, strength, stability, and healthy movement patterns. Her technique uses a combination of therapeutic exercise, manual therapy, and other techniques to methodically solve a patient's issues. A combination of a whole body approach with knowledge of localized anatomy lets Laxmi's patients take specific, powerful steps to restore their full functioning.
Laxmi's whole-body approach to physical therapy extends to her personal life: she does yoga, pranayama and meditation every morning. She also can't say no to sunshine and a good book.
We expect Laura's experience and knowledge will allow Physical Therapy Partners to continue to offer outstanding patient care in a private, professional setting.
Laura is currently taking new patients at our Cary location. Call 919.535 3011 or contact us to schedule an appointment.